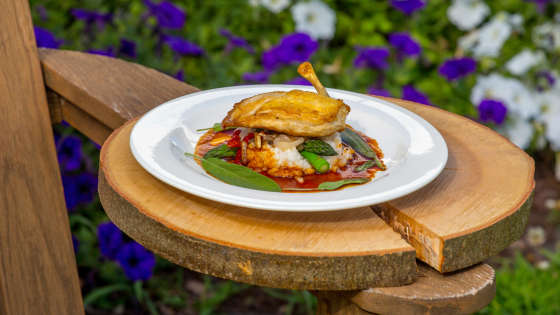 Pocono Dining Options
Pocono dining options abound, from four star cuisines to down home Paula Dean dishes, Pocono dining choices appeal to every kind of appetite, regardless of the flavors you may savor. You can find national chain and fast food options throughout the Poconos for quick, familiar fair, but where we shine is our downtown bistros and cafes, or back Country Inn's and out-of-the-way delis. From casual and quick to finer fare, Pocono dining options will invite you to indulge. At the same time, you'll experience the mastery of professional chefs and meet some of the most capable as well as courteous of staffs which ultimately enhance any dining experience. We understand that whether you're a home buyer or seasonal renter, there will be times when you may want to leave your personal kitchen behind, to experience some of the marvelous menus in our region. The following information is provided to help you navigate among some of the most popular of Pocono dining options.
Featured Fine Dining
Boulder View Tavern is an American restaurant and pub that features a lakeside patio with a beautiful view of Boulder Lake. The atmosphere inside is friendly and good for a relaxed time with family and friends. The restaurant offers a variety of domestic, imported and craft beers, house cocktails and specialty martinis along with weekly specials. Local musicians play live music at the Boulder View Tavern every weekend. Outdoor seating is available on the patio during the summer months.
Tavern wings and French steamed mussels are popular appetizers to start with, while the Charred Artesian Romain Wedge is the restaurant's specialty salad. For your main course, choose a burger like the 8-ounce certified Black Angus beef burger, bison burger or black bean burger. All burgers at Boulder View Tavern are served with a choice of one side, including sidewinder fries, melon wedge or vegetable slaw. Dinner entrées include dishes like Asian Sea Bass, Drunken Salmon, Filet Mignon and Chicken Margherita, all served with a starch du jour. There are also many gluten free options on the menu such as the Crab and Lobster Bisque and Healthy Penne.
Enjoy a variety of sweet treats to finish off your meal such as crème brulee, chocolate brownie sundae or homemade whiskey cake with vanilla ice cream.
Boulder View Tavern is located minutes from these local attractions: Big Boulder Ski Area, Split Rock Resort, Jack Frost National Golf, Jack Frost Ski Area and Pocono Raceway.
123 Lake Harmony Road
Lake Harmony, PA 18624
Phone: (570) 722-9696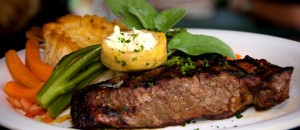 Your hosts Andrew & Carol Moore invite you to experience an evening of distinctive dining. While enjoying your favorite cocktail, chef Andrew Moore prepares an innovative international cuisine with seasonal dishes, including North Atlantic Seafood, creative pastas, Prime Angus Beef, Native Game and poultry. Entrees include Roast Rack of Lamb, Crisp Roast Half Duckling with Mushroom Stuffing and Orange Sauce, and the very popular Mixed Grill of Venison, Boar Sausage, Duck Confit and Bordelaise Sauce. Vegetarian entrees are also available. The Stone Bar Inn also features one of the areas most complete and extensive wine lists. Those with a sweet tooth will enjoy the fine selection of homemade desserts that the Stone Bar offers. Enjoy eating in the main dining room or outside on the deck. One of the Pocono's oldest restaurants, established in 1936. Reservations recommended.
Just 5 Miles from Stroudsburg on Business Route 209 in Snydersville, PA 18360
Phone: (570) 992-6634
Spectacular views of Lake Harmony, coupled with fresh seafood, choice steaks, and upscale desserts make Nick's a destination for a great meal. The menu is a compilation of eclectic and traditional fare coupled with wonderful sauces and flavorings. Start your meal with the Portabello Napoleon, the Clams Bianco or try Nick's famous Clam Chowder served in a bread bowl. Unique dinner entrees include Chipotle Mango Salmon, Herb Infused Sea Bass, and an Almond Encrusted Rainbow Trout. For more traditional fare, try the Filet Mignon with Horseradish Bourbon Sauce or the 18 oz. Nick's pastry chef prepares the fresh pastries and wonderful desserts which are available for take-out. During the warmer months there is additional seating on the outdoor deck which overlooks Lake Harmony. This is a great place in the Poconos to watch the sunset while enjoying a drink or dinner on the deck. Also, enjoy live entertainment during summer weekends. Catering available on or off the premises. Causal attire.
Lake Drive, Lake Harmony, PA 18624
Phone: (570) 722-2500
An authentic French restaurant that offers both Classical and Nouvelle French cuisine. Featuring a 40-foot high vaulted ceiling with two magnificent fireplaces, the French Manor's Dining Room is as much a feast for the eyes as the celebrated food is a feast for the stomach. Request a table near the terrace for a wonderful view of the Pocono Mountains, or a table by the fireplace for later dining. Candlelight dining, culinary expertise and our pampering staff make each meal a memorable dining experience. Proper attire required.  This Poconos dining destination is rated 4-diamond by AAA.  Featured in Gourmet Magazine as one of "Pennsylvania's Best Restaurants."  Written in the Philadelphia Inquirer as "Dinner fit for a King."
50 Huntingdon Road South Sterling, PA 18445
Phone: (570) 676-3244
A small husband and wife owned gourmet restaurant, Moya is known for consistent fresh eclectic cuisine served creatively.  Menu changes often according to what ingredients the chef finds to be most fresh.  An extensive wine list and beer list and beer list are offered as well as a full bar. Reservations recommended.
24 Race Street Jim Thorpe, PA 18229
Phone: (570) 325-8530
The Frogtown Chophouse family invite you to come and try the best steaks and artisanal cocktails in town. The classic American chophouse menu offer sumptuous culinary delights- including lobster claw and jumbo lump crab meat as well as a 16oz dry- aged bone- in  strip steak. Other entrees include half crispy duck and buttery barramundi filet. Casual entrée choices include lobster wraps and pulled pork sandwiches to entrée salads. The cocktail menu includes handcrafted cocktails to craft beer. Live music is also available every Friday and Saturday from 6-9pm.
472 Upper Swiftwater Road Swiftwater, PA 18326
Phone: (570) 895- 4460
Featured Casual Dining
Van Gilder's Jubilee Restaurant
Known as the "Breakfast King" of Poconos dining options, the Jubilee Restaurant has been serving up delicious fare since 1968.  Family owned and operated for over 40 years, the Jubilee has been a favorite dining spot because of its dependable good meals and hearty portions. Enjoy dining in the pub or the restaurant.  Live entertainment in the pub on weekends and dining seasonally on the pub deck.
2067 Route 940 Pocono Pines, PA 18350
Phone: (570) 646-2377


A meal at Piggy's simply is a real country breakfast or lunch. Piggy's has delicious Pocono dining with a country atmosphere overlooking beautiful Lake Harmony. After dining, visit the gift shop where you are sure to find something one of a kind or stop on over to Hog Heaven Ice Cream and choose from 22 different flavors of ice cream!
Lake Shore Drive Lake Harmony, PA 18624
Phone: (570) 722-8493
Robert Christians is charming country dining at affordable prices. Enjoy great steaks, seafood, pasta and more! Everyday specials available. Light fare and children's menus available. Open daily.
710 Route 940, Pocono Lake, 18350
Phone: (570) 646-0433,
Experience the edible excellence at this Seafood King among Pocono dining choices! You'll truly delight in sensational seafood at this family-owned landmark. Menu items include quality Allen Brothers steaks and slow roasted prime rib, homemade soup daily, extensive salad bar, and the area's largest selection of fresh seafood. Named #1 Best Seafood Restaurant in the 2014 Pocono Record Reader's Choice Awards. Open daily.
2972 Route 611, Tannersville, 18372
Phone: (570) 629-2277
Barley Creek is perfectly located near the popular Camelback/Camelbeach Resort as well as the Crossings, making this the go to place for dining while in the area! This restaurant has handcrafted, award-winning ales and lagers brewed and served on site, microbrews, guest brews, wine, cocktails and specialty drinks. They also offer authentic pub fare, steaks, fresh seafood, pasta and huge salads. The kids will enjoy the kids menu as well as the game room while waiting for their food. Barley Creek also offers free brewery tours followed by free beer tasting everyday at 12:30pm. In the warmer weather, enjoy the backyard party pavilion and bar along with a game of wiffleball.
Sullivan Trail & Camelback Roads Tannersville, PA 18372
Phone: (570) 629-9399
Siamsa Irish Pub is an Authentic Irish Pub built in 2004. Siamsa, pronounced "sheem-sa" has everything from authentic Irish cuisine, to pub fare and everything in between, Siamsa has something you are sure to love! A great place to eat if you're looking for a taste of Ireland! Visit their website for their menu and weekly specials.
636 Main Street, Stroudsburg, PA 18360
Phone: (570) 421-8434
From great local beer, to salads, sandwiches, pressed pizzas, there is something for everyone! Newberry's Yard of Ale is a refreshing twist on your everyday bar. Equipped with two full top shelf bars, picturesque outdoor seating, a tantalizing menu, a family style game room, flat screen televisions scattered throughout and a friendly staff!
622 Main Street, Stroudsburg, PA 18360
Phone: (570) 517-0130
Dessert 
Callie's Candy Kitchen & Callie's Pretzel Factory 
Callie's has been in business since 1952 and has been in the Poconos since 1972. This factory has more variety than one can list – from fudge, tons of chocolate assortment and a variety of candy! You name it, they will cover it in chocolate. While in Callie's Candy Kitchen, check out the museum which showcases the art and history of candy making. Three miles south of the candy store is Callie's Pretzel Factory. Here, pretzels are handmade on sticks, wrapped around hotdogs and are transformed into pizzas. They can make just about anything you can imagine. Callie's Pretzel Factory is also home to the "Lefty Shop" which is a gift shop dedicated to left-handers. You can even shop online and items can be shipped right to you! Both are open 7 days a week from 10AM-5PM.
Callie's Candy Kitchen Route 390 Mountainhome, PA 18342
Phone: (570) 595-2280
Callie's Pretzel Factory Route 390 Cresco, PA 18326
Phone: (570) 595-3257
Pocono Cheesecake Factory has been the Poconos premier bakehouse since 1985. While in the area, one must visit one of the two locations to see that New York isn't the only place that knows how to make cheesecake. Pocono Cheesecake Factory offers a variety of cheesecake flavors along with many other favorite recipes such as s'mores brownies, baklava and brown sugar cookies! Visit one of the two locations, either the original location in Swiftwater or the cafe in Tannersville.
2146 PA-611 Swiftwater, PA 18370
Phone: (570) 839-6844
100 Premium Outlets Drive, Suite H-02, Tannersville, PA 18372
Phone: (570) 629-3520