Pocono Shopping Destinations
Pocono shopping options are awesome, but know this, you don't just "go shopping" -no- you have shopping adventures! And no matter whether you're someone who prefers sleek modern presentation or a price-scruntinizing bargain hunter who isn't afraid of a little digging, Pocono shopping provides many alluring alternatives. We have it all. From antiques & galleries, craft & specialty stores, chic downtown boutique districts and fantastic factory outlets, Pocono shopping options are plentiful, and don't forget our Farmer's & Flea Markets!  If you're looking for a sweet souvenir or to save big on holiday gifts, Poconos shopping choices offer unceasing potential to score a few great finds. The following reflects a few of the more popular Pocono shopping options.
Antiques & Galleries
Pocono Peddler's Village – Antique mall with three interconnecting barn style buildings and over 90 vendors offering antiques and collectibles.
Route 611 & Stadden Road Tannersville, PA 18372
Phone: (570) 629-6366
The Village Crafter's Gallery   Eight rooms full of creative gifts and handcrafts for any reason or season.
2822 Route 611, Tannersville, PA
Phone:(570) 620-0039
Red Run Gallery – Discover an exciting assortment of beautifully hand made items to adorn your body, home, and garden. Red Run features eclectic and distinctive collections of whimsical, traditional, woodsy and contemporary looks.
Route 940 Pocono Pines, PA
Phone: (570) 643-9075
Hutton Metalcrafts  Unique hand-crafted metal works, copper lanterns, lamps, candle lanterns, copper wall sculptures, fine pewter and custom ornaments. Fine oil paintings on glass. Open Tues. thru Sat., 9 a.m. to 5 p.m. Call ahead to confirm hours.
Route 940, Pocono Pines,
Phone: (570) 646-7778
Glass Hat Elegant glassware, antique oak and country furniture, collectibles, estate jewelry, pottery, home décor, kitchenware and Depression glass. Tea sets and accessories. Christmas Room. Open daily.
Route 191 in Hamlin, PA
Phone:(570) 689-4060
Crafts & Specialty Shops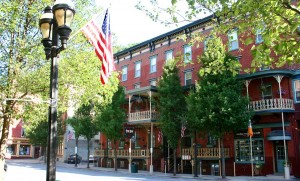 Bendixen's Giftware
A cozy country shop featuring handcrafted items, pottery, candles, potpourri, Penn State items, collectibles, Christmas corner, lodge items, numbered birthday countdown candles, gourmet goodies, online shopping and lots more.
Route 940 Pocono Summit, PA 18346
Phone: (570) 839-8795
Red Run Art – Craft – Jewelry
Discover an exciting assortment of beautifully handmade items to adorn your body, home, and garden.
Red Run features eclectic and distinctive collections of whimsical, traditional, woodsy and contemporary looks.
Route 940 Pocono Pines PA 18350
Phone:(570) 643-9075
A visit to Holley Ross Pottery is an experience you'll undoubtedly want to repeat. Our factory showroom is located on Route 191 in the quaint village of LaAnna (5 miles south of Newfoundland). Products are offered from over 135 vendors as well as the products made on the premises. Demonstrations are also available on how the pottery is made – check website for times and days. Holley Ross offers genuine Fiesta dinnerware, Hartstone hand-painted stoneware Pilgrim glassware and many other products at a savings of up to 70%. Holley Ross also has a lake and forest woodland park where you can walk across a rustic swinging bridge where you can walk into a forest with sawdust trails and picnic near the lake.
167 Route 191 LaAnna Cresco, PA 18326
Phone: (570) 676-3248
This studio has vintage decor and interior design! You also can do workshops here and sip and paints on wood pallets! If you have never been here, you have to check it out. Check out their facebook page to see upcoming events.
940 Ann Street Suite G, Stroudsburg, PA 18360
Phone: (570) 242-3724
American Ribbon & Craft Outlet 
The American Ribbon & Craft Outlet is located in downtown Stroudsburg! Here you can find a variety of ribbons, fabrics, crafts and trophies! A great place for sewers and crafters. Tons of things in their retail store such as craft supplies, puzzles, chocolate candy making supplies, buttons and wood supplies to name a few!
925 Ann Street, Stroudsburg, PA 18360
Phone: (570) 421-7470
The ultimate shopping destination- while here one will find one of the Poconos largest selections of Pandora, Vera Bradley, Dansko, Swarovski, Jim Shore, Dept.56 and much, much more! There is something here for everyone! Be sure to stop in and also check the large selection of barreled bulk candy!
3414 Route 611 Bartonsville, PA 18321
Phone: (570) 629-3388
In Town Shopping
When it comes to shopping in the Poconos, downtown Stroudsburg is the commercial hub for the surrounding areas with specialty shops, restaurants, banks and financial centers, art galleries, churches and a theater. Downtown Stroudsburg is the anchor for the modern shopping centers that are being built increasingly around the area, striving to be in or near the historic downtown.
Main Street Stroudsburg, PA 18360
Phone: (570) 421-7703
Jim Thorpe historic district dates back to 1816. This truly picturesque town entwined in its eccentric past of millionaires and miners, money and misery, church bells and seam whistles stays with you when you leave and draws you back.
Broadway and Race Streets Jim Thorpe, PA 18229
Phone: (570) 325-5810
Outlet Shopping
This Pocono shopping outlet center features over 100 designer and name brand outlet stores offering savings of 25% to 65% everyday.  Located off Exit 299 of Interstate 80 in Tannersville, open year-round except Thanksgiving and Christmas Day.  Senior citizen and group discounts available.
1000 Premium Outlets Drive Tannersville, PA 18372
Phone: (570) 629-4650
Farmers & Flea Markets
Experience one of the more unique Pocono shopping experiences, with hundreds of vendors and thousands of items to choose from.  Walk through the outdoor promenade or shop and enjoy all of the indoor vendors with their products and services.  Enjoy breakfast or lunch from the many food vendors.
1 Municipal Drive East Stroudsburg, PA 18301
Phone: (570) 223-8640
Blakeslee Flea Market
Located at the corner of Route 940 & 115 this market offers it all, the bargain hunter will be pleased with the variety of wares offered at the indoor/outdoor market. Those in the know go for amazing handmade Amish furniture. Open on Saturdays
5684 Route 115  Blakeslee, PA 18610
Phone: (570) 646-0943
Local Produce, dairy and eggs can be found at this open air market on Wednesdays from May through October – a great place to find fresh, in season goods close to downtown Stroudsburg.
Miller Park-Crystal Street East Stroudsburg, PA 18301
Phone: (570)460-1452
Poconos shopping comes with great options to source fresh produce, and Monroe Farmers' Market features some of the best. From locally-grown produce, sweet and savory baked goods to prepared foods, local eggs, seafood and fine hand-crafted products. Saturdays 8 am – noon May – Oct
Ann St Stroudsburg, PA 18360
Phone: (917) 716-6489
Jim Thorpe Community Farmers Market
Locally produced eggs, baked goods, vegetables, fruit, pastured grass-fed meat, honey, flowers, jams, herbs, maple, plants and arts and crafts.
E 10th Street Jim Thorpe, PA  18229