Skiing, Snowboarding & Snow Tubing
Posted: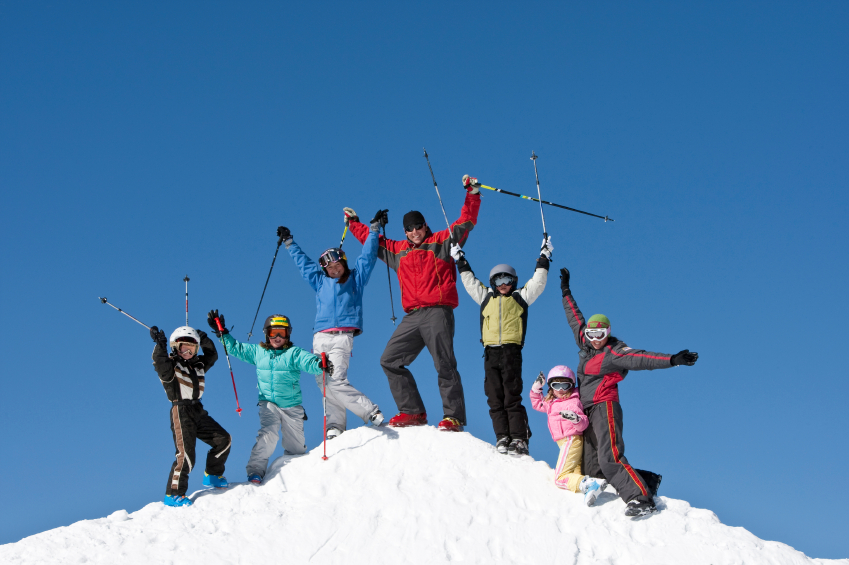 Pocono Skiing – Snowboarding & Snow Tubing
The Pocono Mountains has been home to commercial ski areas since welcoming the first one in Pennsylvania in 1948. This includes skiing, snowboarding and snow tubing. The Poconos offers perfectly groomed slopes for beginners. Yet, for those who are more experienced, the Poconos also offers double black diamonds and rated terrain parks. There are seven major ski areas in the Poconos with most offering super fun and family friendly snow tubing – below you will find links from each mountain – Happy Skiing, boarding and tubing!
Adventure Center at Skytop Lodge  – If you are a new skier and are looking for a less crowded slope, this is the place for you! Skytop has four wide gentle slopes with a vertical drop of 295 feet with beautiful views of the Pocono Mountains! All winter activities are weather dependent. Additionally, Skytop offers Ski and Snowboarding School  and lessons!
1 Skytop Lodge Road Skytop, PA 18357
Phone: (570) 257-2114
BIG BOULDER – was the first commercial ski area to open in Pennsylvania in 1946. Downhill skiing has evolved dramatically in the last 60 years. While the Pocono slopes haven't become precipitous, the facilities now include high-speed lifts, grooming, snow making and terrain parks to keep up with the latest slope styles. Big Boulder has a summit elevation of 2175′ and a base elevation of 1700′ with a vertical drop of 600′. There are also a total of 20 trails and 12 lifts. Big Boulder is also great for little kids. The trails are well-manicured, the ski schools have experienced instructors and great mascots. The mascots are frequently spotted on the slopes pressing their furry flesh to make kids smile.
Lake Drive Lake Harmony, PA 18624
Phone: (570) 722-0100
BLUE MOUNTAIN –Home of Pennsylvania's highest vertical, 39 trails served by 16 lifts, plus six terrain parks. Blue Mountain offers free childcare for ages 6 weeks to 5 years old midweek (non-holiday). Pricing for weekends and holidays is $10 per hour.
1660 Blue Mountain Drive Palmerton, PA 18071
Phone: (610) 826-7700
CAMELBACK MOUNTAIN RESORT – has defined snow sports in the Poconos for nearly 50 years and has been families' first choice for generations. With an unrivaled combination of skiable acres, snow making horsepower, high-speed detachable lifts and legendary service. Camelback has a total of 37 lighted trails with 16 lifts. Camelback offers lessons, snow tubing, and the Appalachian Express Mountain Coaster.
1 CamelbackRoad  Tannersville, PA 18372
Phone: (570) 629-1661
JACK FROST MOUNTAIN – Provides an inviting ski area. The summit elevation is 2000 feet, the base elevation is 1400 feet and the vertical drop is 600 feet. 20 different slopes to include:  4 easy, 6 more difficult, 8 most difficult and 2 Terrain Parks. There are 12 lifts: 1 quad, 2 triples, 6 doubles and 1 ski carpet and 2 surface tubing lifts.
Jack Frost Mountain Road Blakeslee, 18610
Phone: (570) 443-8425
SHAWNEE MOUNTIAN – With 125 skiable acres, 23 trails, high speed quad lift, two terrain parks, a snow tubing park and 100% snowmaking, Shawnee Mountain is your ticket to winter fun!  A family friendly resort, Shawnee offers an excellent children's program, unrivaled beginners' packages and some great terrain for the advanced skiers. Also, Shawnee offers childcare 7 days a week. Service and hospitality are top priority here, making Shawnee Mountain the Poconos' favorite ski resort.        
Hollow Road Shawnee on Delaware, PA 18356-0339
Phone: (570) 421-7231
SKI BIG BEAR at Masthope Mountain– Ski Big Bear offers 18 trails, 7 lifts including 2 Magic Carpets and 650′ of vertical. The mountain is covered annually with approximately 50 inches of snow. When Mother Nature isn't sending snow, snow makers here make sure the trails are blanketed with as much snow as possible. Our trails offer something for every ability. Ski Big Bear also has snow tubing, offers lessons and has special programs.
192 Karl Hope Blvd. Lackawaxen, PA 18435
Phone: (570) 685-1400