Pocono Water Fun
Often when we think of the Poconos, we think of the colder weather and the snow! We often forget how much the Pocono area offers for water fun – all year round might I add. Whether it is summer or winter, one has several choices in which waterpark they want to enjoy for a longer stay or even a day trip. Here is a list of the most popular waterparks the Poconos has to offer!
Camelback is not only known for it's snow seasons, but also for it's waterpark. On a hot day during the summer, beat the heat at Camelbeach and enjoy the largest outdoor waterpark in PA with 37 rides, slides and attractions. Explore the new Mummy Oasis, ride the waves of the Kahuna Lagoon Wave Pool, learn to surf on the Flow Rider, relax in the Blue Nile Adventure River and dare the drops of the Dune Runner. Thrill rides, family rides and kids rides available!
309 Resort Drive Tannersville, PA 18372
Phone: (570) 629-1662
Voted #1 indoor waterpark in the USA and one of the best resorts in the Poconos, Aquatopia is PA's largest outdoor waterpark and is part of Camelback Resort. Aquatopia is heated to 84 degrees year round which makes this indoor waterpark perfect for a cold day or even a day in the summer. Aquatopia offers 13 water slides which include tube slides, mat slides, body slides, bowl slides, aqua launch capsule slides and even slides for the youngest of thrill seekers. While here, there are 7 pools, an adventure river and a wave pool, tons of poolside amenities and indoor cabana rentals.
193 Resort Drive Tannersville, PA 18372
Phone: (570) 629-1665
Visit America's largest indoor waterpark! Kalahari features 220,000 square feet of retractable roof, stand-up surfing or body boarding on the Flow Rider, Anaconda and Swahili Swirl waterslides, a lazy river, an indoor/outdoor family hot tub, a wave pool and tons of activities for the little ones! Kalahari also offers an outdoor pool along with a kids pool, "Bugs Burrow", with slides for the little ones! Cabana and Bungalow rentals are also available. Check their website for a complete list of rides and attractions.
250 Kalahari Boulevard Pocono Manor, PA 18349
Phone: (570) 580-6000
Rated "Best Indoor Water Park 2017" by USA Today's 10Best.com Reader' Choice Awards, Great Wolf has a ton of fun to offer to the whole family. Your weatherproof family vacation includes slideboarding, slides with huge drops and twists that are sure to get you soaked, a four story dropping water slide, a water fort tree house, a raft ride for the whole family, an outdoor and indoor activity pool, wave pool, floating lily pads and waterslides and a Cub Paw Pool for the little ones. Great Wolf also has two hot springs and cool cabana rentals.
1 Great Wolf Drive Scotrun, PA 18355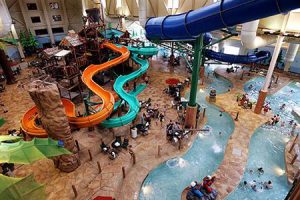 Phone: (570) 688-9899
Located in the Town Center at Split Rock Resort, H2Oooohh! is a family indoor waterpark with 53,326 feet of water attractions. H2Oooohh! offers three four-story slides, a wave pool, activity pool, jungle play structure with dumping bucket and Leapin' Lillypads. Home to PA's first indoor Flow Rider, H2Oooohh! also offers Lava Spring hot tubs. Twilight passes are available and children 2 and under are free!
428 Moseywood Road Lake Harmony, PA 18624
Phone: (570) 722-9111