Tips For Selling Your Home!
Posted:
Home buyers are going to be much more critical of your home than they are of their own. Most people aren't dusting their house from top to bottom weekly, but they will notice if you haven't.  When your home is on the market, it needs to stay in "show" condition. This is what you would expect of a new Model home.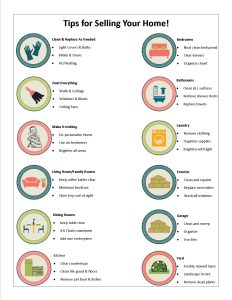 It might seem like an extensive list to go through, but getting your home ready before listing it is extremely important. You only get ONE chance to make a first impression! Don't make the costly mistake of listing your home prior to being able to make the necessary changes that will help make or break a sale!
If you start to get off track, just try and remember: your goal is that prospective home buyers won't be able to tell whether or not anyone lives in the home. Your home has to stand out above the rest because you have gone above what the average home seller would do. Remember all of your hard work will pay off at the closing table!